Namo Buddha Seminar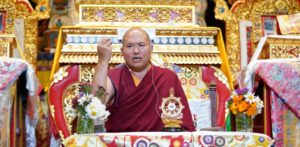 At the request of Khenchen Thrangu Rinpoche, Drupon Khen Rinpoche taught the ten-day Namo Buddha Seminar (14th – 23rd April) on his behalf. The teaching topic was 'Straight talk about my own and other's conduct in this degenerate age' by Jamgon Kongtrul Lodro Thaye.
The seminar was attended by over 300 people, comprising both those travelled from abroad and the Khenpos and students of Thrangu shedra (buddhist college). The teachings were translated into English by Khenpo David Karma Choepel and into Chinese by Khenpo Tengye, and included regular questions and answers sessions. 
For a few days, Khen Rinpoche was also requested to gave reading transmissions and empowerments to a few Khenpos and practitioners of the retreat centre at Namo Buddha.
With the teachings scheduled to take place between 10-12am each morning, Khen Rinpoche undertook to travel back and forth between Namo Buddha and Thrangu Sekhar Retreat Center in Bhaktapur daily so as not to miss any of the teachings for the Thrangu Gompa lamas engaged in the traditional three year retreat, and the international practitioners in the six year retreat programme.