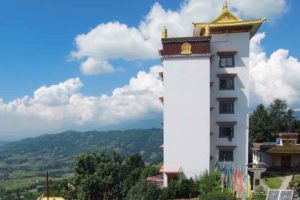 RETREAT POSTPONED (21 March 2020)
Dear Friends in the Dharma,
We are sorry to inform you that the first Thrangu Sekhar one-week retreat will be postponed due to the coronavirus pandemic.
We were hoping that the situation would soon ease, allowing people to travel as before, and the retreat could go ahead as planned, but there is clearly going to be a longer period of disruption than anticipated.
In response to the pandemic, the Government of Nepal has taken the following measures:
① Banned gatherings of more than 25 people for social and religious activities.
② Stopped issuing on-arrival tourist visas to all countries.
③ Requires all foreigners (including NRN's) intending to visit Nepal to contact the Nepali missions abroad. A recent swab test PCR health certificate issued, at most, seven days before the intended arrival in Nepal, must be submitted with the visa application and be presented to the Immigration at TIA upon arrival.
In light of this and the general situation around the globe due to the virus, we decided that the retreat (which was to be held between the 7th – 14th of May 2020) should be postponed until a safer and more convenient time.
We are sorry for any inconvenience this causes you, and will be in contact as soon as we have new dates for the retreat.
Should you have any questions, please feel free to email us at: dharmahk.info@gmail.com
Wishing you all good health and thriving practice,
Thrangu Sekhar One-Week Retreat Team
————————————————————————————————————————
ANNOUNCEMENT (11 March 2020)
Dear Friends in the Dharma,
Thank you for applying for the first Thrangu Sekhar one-week retreat. We rejoice in your wish to study and practice the sacred dharma.
After reviewing the applications with upmost care, we have now finalised the name list of participants for this retreat.
Please read the following information carefully:

 ALL applicants will receive a notification email to inform them whether they have been given a place. Please check the email address you provided as part of the application.

 For those who have been given a place, please read the information in the notification email carefully, and send the confirmation email by the specified date.

 For those who have not been given a place on this retreat due the the limited number of spaces, please accept our most  sincere apologies and know that you will be prioritised for the next such retreat, should you wish to attend.
For any enquiries, please email to dharmahk.info@gmail.com
We wish you flourishing study and practice in the dharma.
Thrangu Sekhar One-Week Retreat Team
————————————————————————————————————————
UPDATE (3rd March 2020)
Dear Friends in the Dharma,
Thank you for your application and desire to participate in the retreat.
Please accept our apologies for the delay in getting back to you with confirmation of your place on the retreat. Over the last few days we have been assessing the situation with the coronavirus and discussing whether the retreat should be cancelled or not. We have decided not to postpone or cancel the retreat, since everyone who applied showed great keenness to attend and the retreat is something we are also very excited about and want to see go ahead as planned. Obviously if the situation declines dramatically this decision will need to be revised.
We have also received many more applications than expected, so processing the applications has taken longer than planned, but we will confirm your place on the retreat in one week's time. Thank you in advance for your patience.
Thrangu Sekhar One-Week Retreat Team
————————————————————————————————————————
Date
7-14 May 2020
Teachers
Khenchen Thrangu Rinpoche, Drupon Khen Rinpoche Karma Lhabu, Drupon Khenpo Karma Wangchuk, and Drupon Lama Dawa Purbu
Daily Schedule
There will be two teaching sessions and four meditation sessions each day.
(Morning)
5:00-7:00 First Practice Session
7:00 Breakfast
8:00-10:00 Second Practice Session
10:15-12:00 Dharma Teaching
12:00 Lunch
(Afternoon)
1:30-3:30 Dharma Teaching
4:00-6:00 Third Practice Session
6:00 Evening Meal
7:00-9:00 Fourth Practice Session
(Dharma teachings will be given in Tibetan with English, Chinese, French, Spanish and Cantonese interpretation available.)
Cost
All aspects of the retreat, including the retreat course, accommodation and food, are free.
Places Available
125 (men 21, women 104)
Accomodation & Food
2-4 people sharing one room as allocated by the organiser. Vegetarian meals provided.
Transportation
Buses will be provided free of charge between Boudhanath and the retreat centre on the first and last day of the retreat.
Application Date
All applications should be submitted before 1st February 2020
Notification Date for Admission Result
1st March 2020
Application Information
Due to the limited number of people the retreat centre can accommodate, and to try and ensure that those who will benefit most from the retreat do not miss out, participants will be selected by the organisers once all applications have been received, rather than working on a first-come-first-served basis.
Please read the following application requirements carefully. Applicants must be qualified as below and provide required personal information. Once the applications have been processed, all applicants will receive a confirmatory email.
If participants who have been given a place cancel without good reason or do not follow the rules of the retreat, or fail to complete the retreat, they will not be welcome to attend any future such retreats or courses.
Application Requirements
• Applications from non-Buddhists and non-religious people are most welcome
• Participants must commit to attending all four meditation sessions and two teaching sessions each day, as well as to the completion of the entire one-week retreat
• Participants must be able to follow all rules of the retreat centre
We ask that the following types of individual not apply, for they will not be given a place:
• Those who have had conflict with a Vajrayana lama of theirs
• Those of poor physical or mental health, or those whose personal situation might create obstacles to their own or others' full participation in the retreat
• Those who have failed to complete retreats they have committed themselves to in the past.
Personal Information Required from Applicants:
• Name, Age, Gender, Nationality, Education, and Language(s)
• Email and contact number
• Copy of passport
• Brief Personal Introduction: No more than 150 words. Teacher's Name (if you are a student of a Lama or other spiritual teacher), past Buddhist or other spiritual study and practice
• Why do you wish to attend this retreat: No more than 150 words
• Other relevant information
Organisers
Thrangu Sekhar International Meditation Centre & Thrangu Dharmakara
Registration Page