Teachings and Pilgrimage in South Asia
December 23, 2015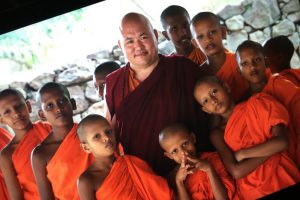 Visit in Taiwan
Rinpoche spent just under two weeks in Taiwan altogether.
The first destination of his visit was the Hwayue Foundation in Taipei. At their request Rinpoche lead a weekend of practice sessions and teachings at their Dharma Centre in Taipei. The teachings were based on the Seven Points of Mind Training.
The Taipei Vajra Vidya Dharma Centre also invited Rinpoche to give a teaching. He taught about the steps of study, contemplation and meditation.
Rinpoche then headed to the Thrangu Tara Abbey Dharma Centre in Taichung City, where he gave an evening's teaching. He then visited the Changhua Vajra Vidya Buddhist Centre and the Kaohsiung Vajra Vidya Buddhist Centre.
Rinpoche remained in Kaohsiung for a couple of days as he was invited to give a weekend of teachings at the Taiwan Kagyu Shedra. He again based the teachings on the Seven Points of Mind Training.
An important point that Rinpoche stressed again and again in the different teachings that he gave throughout Taiwan is the need for us to study the Dharma. He said that although we as Kagyupas are considered to be of 'the practice lineage' that does not mean that we do not need to learn, because without prior study and learning we will not know how to practice.
Pilgrimage in Indonesia & Sri Lanka
Rinpoche visited Indonesia for a three day pilgrimage. He visited the sacred site of Borobudur and other nearby pilgrimage sites.
He then headed to Sri Lanka to take part in a pilgrimage with Thrangu Rinpoche and many of Thrangu Gompa's monks, nuns and lay students.
The group spent a week in Sri Lanka and, among others, were able to receive the blessings of the three main sacred sites: the Bodhi Tree in Anuradhapura, the tooth relic in Kandy, and Sri Pada (Adam's peak), where the Buddha miraculously visited and left a footprint, and where many of the tantras were taught.